How Calm and Content Dogs help you?
At Calm and Content Dogs I want to help you achieve your goal, ultimately owning a well behaved family pet who plays a positive role in your home.
I use training techniques which gives your dog a focus, making them feel they have a job to do so they play a constructive part in family life.
My clients and their pets are of the utmost importance, and each service I deliver is committed to meeting these needs whether it is part of an individual training session or in a group.
Individual Training and Behaviour
I can cater for many training needs and behavioural modifications including general/puppy training, separation, aggression, anxieties and phobias.
Each case is assessed on an individual basis and the length and number of sessions will be suited to meet the needs of the dog and owner.
For more details please contact me.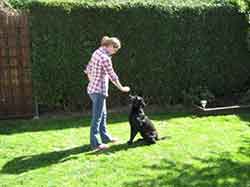 Scentwork
Does your dog love to use its nose????
Why not try scentwork, this can be for fun or a new hobby as a new hobby and compete.
I have over 15 local venues that I use to give your dog a variety of searching environments or join in classes at our base.
Come and learn the skills then practice in your own time at any location. Its great mental stimulation for your dog and groups are really friendly.
All breeds, age, abilities are welcome its open for all.
Dog Training Classes
At Calm and Content Dogs I want to help you train your dogs in a realistic setting.
Forget the Village Hall and join our 'Social Training Walks' or come to one of our venues where you learn to train your dog in its natural surroundings. Keep your dog focussed with lots of stimulation and fun whilst walking with friends.
For more details please contact me.
Whilst training with Calm and Content Dogs it is the owner or handler who is responsible to ensure their dog is on lead and/or under control at all times.
Calm and Content Dogs accepts no responsibility for any loss, injury or damage caused by poor supervision.